Restaurant Tarouca Prague Pruhonice with garden terrace
More than just hotel restaurant - we also have Czech cuisine
The service in the restaurant is temporarily on advance reservation only.
Our pleasant, willing and professional staff is looking forward to your visit and is ready to help you enjoy your stay daily from 7 a.m. to 10 a.m. and from 10.30 a.m. to 10 p.m. Pruhonice - Cestlice near Prague. Czech cuisine in Pruhonice and Cestlice - near Aquapalace Aquapark.
Our restaurant was certified by CzechSpecials!
Czech Specials is a partner Project of the CzechTourism Agency, the Czech Association of Hotels and Restaurants and the Czech Association of Cooks and Confectioners. The aim of the Project is to raise awareness of Czech regional cuisine, as well as to support restaurants offering modern-style traditional Czech cuisine. It presents Czech cuisine with its diversity among the regions, various unique meals as well as wide range of their preparation. Czech restaurants can definitely offer their customers good-quality service. Moreover, Czech Specials is also a certificate, granted to restaurants where customers can be sure to get traditional Czech food in appropriate quality.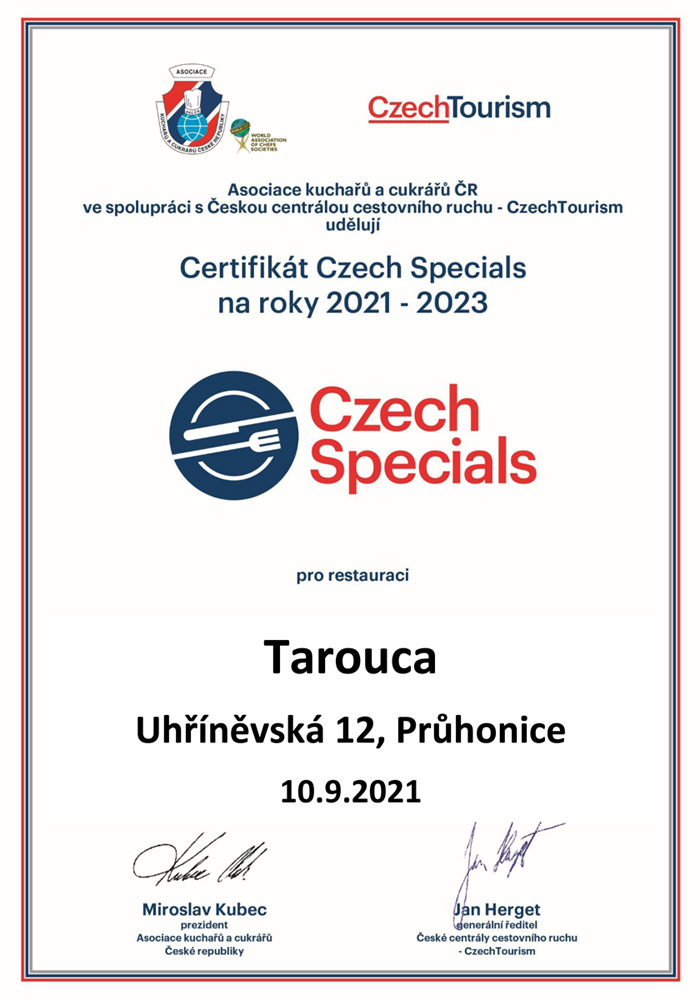 A large parking lot is available for our hotel guests at any time. Our quality restaurant is non smoking.
A fireplace with open fire and a plenty of our chiefs' specialities are creating a cosy environment. Time spent at the table is never time lost ...
We would be glad to help you organize special events like business meetings, firm parties, receptions or cocktails. We could also prepare non-menu meals for bigger groups (20 and up).
We offer full and various breakfast, business breakfast too (we serve 07.00 - 10.00 a.m.).
During the summer you will certainly take advantage of our garden terrace with refreshing snack.
Open daily - advance reservation required
Monday - Saturday 07,00 - 22,00
Sunday 07,00 - 10,00
23.12. + 24.12. closed
For groups and private companies by appointment.
Special Offer
Reservations
Phone: +420 267 750 405, 763-5
Fax: +420 267 750 766
E-mail: info@parkhotel-pruhonice.cz
Photos