Pruhonice - Cestlice, Prague and Surroundings of Prague
Hotel Parkhotel Pruhonice has ideal location for making trips not only in Surroundings of Prague, into the city of Prague, but also around the whole region of the Czech Republic. The hotel is situated on the border districts of Prague-West and Prague-East and municipalities Cestlice and Pruhonice. Pruhonice - a great and romantic place in the Prague area.
It is Prague, but it isn´t Prague. Castle, Castle Park (250 ha and 23 km ways) protected by UNESCO - beautiful in every season, shopping area, but also our hotel and Restaurant Tarouca with fireplace, summer terrace and delicious cuisine. Prague - Pruhonice Cestlice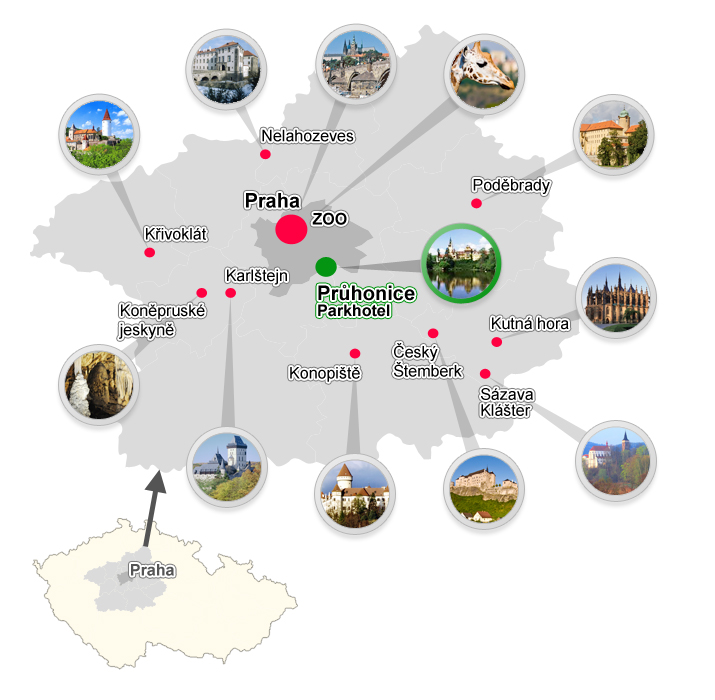 Czech Tourist Authority – CzechTourism
Do not miss the following sights in Surroundings of Prague and Pruhonice - click here for photogallery
Pruhonice castle castle with beautiful park under the protection of the UNESCO (beautiful during all seasons of the year).
Prague - romantic

and magical city

, cultural

and

historic

jewel

of Europe.

We also recommend you to visit Konopiste, Karlstejn, Cesky Sternberk, Hluboka nad Vltavou and Orlik Castle, town of Kutna Hora and Cesky Krumlov.
Aquapark Aquapalace Praha Cestlice about 300 M from the hotel
Mole's World - children's entertainment world in Horní Měcholupy
Shopping area Pruhonice - Cestlice , Shopping centre CHODOV and Outlet Center Fashion Arena .
Cinema City Chodov - the only megaplex in the Czech Republic
Auto Services for Cars - Volvo, Seat / Cupra, Audi, Volkswagen, Range Rover, Jaguar, BMW, Mini, Toyota / Lexus, Ranault, Dacia + Tesla Center for the Czech Republic Průhonice - Prague
Charging station for electric cars - Pumpa Pruhonice, by Lidl Pruhonice (cca 300 m) and by Albert a Spektrum Čestlice shopping center (cca 1 km).
Not far away off the hotel (7-30 km) there are several golf links. The closest are: Golf Prague Hostivar, Golf Club Stirin, Golf Resort Konopiste and Golf Club Prague-Hodkovicky.
Dendrological Garden
Enjoy the beauty of the Dendrological Garden just a few minutes of walk from the hotel:
Photogallery of Dendrological Garden
Aquapark Aquapalace Praha Cestlice - Pruhonice
With discount, when you stay in our hotel
Parkhotel Průhonice is located close to the largest water park in the Czech Republic and Central Europe. If you are looking for some fun at the weekend or just for the evening then this is just the place for it. You can spend a lovely weekend here with your family or an evening with your colleagues after a company training session or a meeting. You will certainly be fascinated by the contrast offered by a stay in our cosy, family Parkhotel Průhonice with its restaurant which boasts an open fire and superb cuisine and relaxation in the modern surroundings of Čestlice water park.
The Aquapalace Praha water park in Čestlice is located in the Průhonice Čestlice Business Park approx. 400 m from Parkhotel Průhonice and offers several unusual experiences such as various attractions in the "water world" and a wide range of sporting and relaxation services such as saunas, baths, a fitness centre, wellness centre, physiotherapy and a spa. The water park in Čestlice also offers the opportunity to purchase refreshments and do some shopping in the nearby Průhonice - Čestlice Business Park. Accessibility is very good from Prague – Jižní město – by bus from the Opatov and Chodov Metro stations. It is only a few minutes from neighbouring municipalities such as Průhonice, Nupaky, Benice, Říčany, Dolní Břežany, Modletice and Jažlovice. Accessibility by car is very good via the D1 motorway Prague –Brno.