Lounges / Meeting Rooms for Corporate Events
More than 25 years of experience - organize your company's event with us !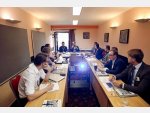 END OF RESTRICTIONS - we also believe that the epidemic situation is improving, so it is necessary to "catch up" with postponed events (training, meetings, etc.). Teleconferencing can´t substitute face-to-face contact and direct transfer of knowledge and experience.
There are 3 lounges / meeting rooms with a capacity of 5-70 people, as well as conference equipment.
In addition, home cooking, 25 cozy rooms and a friendly family atmosphere :-) ...
Information and reservations e-mail: sales@parkhotel-pruhonice.cz or tel.: 721 244 106. We looking forward to seeing you !