Dendrological Garden Pruhonice
Tulips, Daffodils, Dahlias ...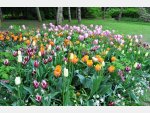 Dahlias exhibition
Tulips Show - around from 26 March till 26 May
Come and see an exhibition of products from Pruhonice cultivation in lovely spring atmosphere. After a nice walk we invite you to visit our Tarouca Restaurant, where you can expect our delicious specialties.
Reservation required - tel. 721 244 106.
Photos